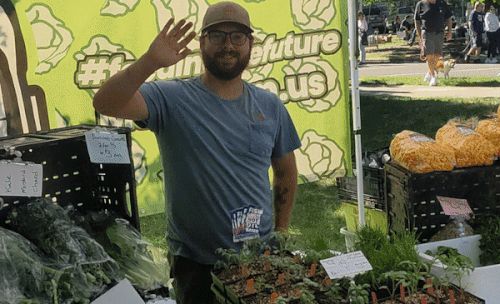 Hi, I'm Alex.
My name is Alex, and I'm the owner/operator of Moon Farm. Our farm is a no-till, no-spray veggie and poultry farm located in Diamond, OH just east of Ravenna. Using aquaponics, and other regenerative techniques, we grow fresh veggies year-round. With this hybrid CSA (community supported agriculture), I'll bring you fresh produce, eggs, and microgreens every Monday morning.
This means produce that is always fresh, eggs from happy chickens, and a farmer who knows you by name.
Shop Produce Bundles
Our Markets
Visit Our Farm Store

Farm Store open seasonally or by special request, from March to November. Stocking Eggs, Veggies and more. Orders may be placed in our store and picked up, or text me to order: 330-203-1193

Shop Now

Hudson Farmer's Market

June-October • Saturdays 9am-12:30pm

On the Hudson Village Green,

Hudson, OH

Visit the HFM Website
Where is Moon Farm?
We are located at:
3981 Jones Rd.,
Diamond, OH 44412
Please Send Mail to:
Moon Farm
PO Box 95
Diamond, OH 44412